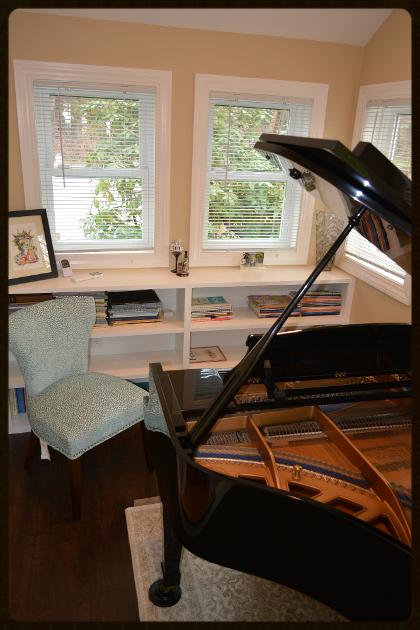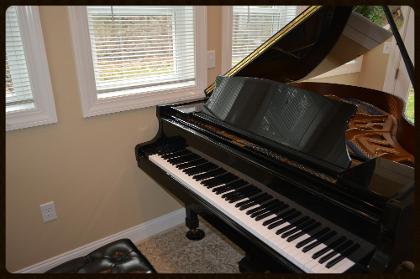 Newly renovated studio features a K. Kawai 5'10" KG Model grand piano
Studio Lessons
Tuition is charged per session. Cash and checks are acceptable and may be made out to Rebecca Helm. Your lesson time will not be scheduled, confirmed or held until payment is made.
Re-enrollment is automatic unless the withdrawal form is filled out by May for the fall session or November for the spring session. If you wish to change your scheduled time in between sessions, you must request a change in schedule for the next session. Schedule changes in the middle of sessions are not possible.
There will be no make-up lessons offered unless it is a medical or family emergency. A missed lesson due to an emergency will not be refunded. If your missed lesson falls into this emergency category you will have the opportunity to schedule a make-up lesson during the same session it was missed. Travel bans due to weather will not be made up.
Inclement Weather: Lessons will not be canceled even if local schools are canceled. Lessons will be held as normal regardless of weather unless you receive an email.
Lessons are non-refundable or transferable.
Should you need to contact me, email or text is the preferred method and may be used at any time. If there is a situation you would like to discuss in person, please plan on meeting at the beginning of your lesson time.
Every student is responsible for purchasing all supplies necessary: Notebook, Pencil, All current books and individual pieces (exact materials different for each student). Materials for your student can be purchased for you for an additional $1 charge.
Tardiness: If you are late for your lesson time, you will only be given the remaining portion of your scheduled lesson time. No additional time will be given for student tardiness.
Recitals will be held twice a year and participation is strongly encouraged but not required. These recitals are at no additional charge and are included in the session rate. Other performance opportunities may occur throughout the year in addition to the annual formal recital.
Parents are invited to observe lessons as long as there are no noise distractions (no phone calls during lessons). If parents wish to leave during the lesson time, it is their responsibility to walk their child to the studio door at the start of the lesson and pick up their child at the studio door at the end of their lesson
No food or drink is permitted in the piano studio
Please remove your shoes upon entry of the piano studio. Feel free to bring socks or slippers. Please keep your hands clean and germ-free out of respect for other students using the piano and keep fingernails short.
To enter the studio, follow the stone walkway to the rear entrance of the piano studio. Do not use other entrances or ring doorbells in order to not disturb other lessons. Please do not block the entire driveway and pull to the right side for parking. Parents who do not stay for the duration of their child's lesson will need to park and walk to the studio entrance to retrieve them at the end of their lesson.
Please sign and return this portion along with your tuition payment:
Student Name(s): _____________________________________ Birthdate: ___/___/______
Parent/Guardian Name(s): ______________________________________________________
Parent's Email Addresses: ______________________________________________________
Home Address: _______________________________________________________________
Home Phone: _______________________
Cell Phone: _________________________ Can receive texts? _______
Cell Phone: _________________________ Can receive texts? _______
Emergency Contact Name & Number: ____________________________________________
Additional Comments?________________________________________________________________
I have read the studio policies and agree to adhere to the conditions stated above. By enrolling in the studio and signing this studio policy, the student and the student's parent/guardian(s) consent to and authorize Rebecca Helm to capture and use video-audio recordings and photographic images of the student and/or his or her musical performance or quoted statements in print, electronic, or online media, for educational and promotional purposes, and without compensation (never stating the student's full name).
In case of medical emergency when the parent is not present, I will exercise my best judgement to find medical care for your child and you will accept responsibility for the medical expenses. You also hereby release Rebecca Helm and her spouse or representatives from all liability from personal injury, illness, property loss, or damages resulting directly or indirectly from studio activities.
Signature: ________________________________________________ Date: ____________